Personalized Psychic Guidance & Astrological Insights that will change your life!
SUSYN BLAIR HUNT PSYCHIC ASTROLOGER CHANNELER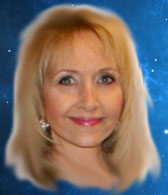 For direction in love, personal relationships, career, finances or health, past lives, astrological guidance or want to connect with loved ones in the spirit world, Susyn Blair-Hunt can help You.
Each reading is customized to give you the most informative and accurate session possible. Whatever your concerns are, Susyn can help you get to the heart of the matter, explore your options and find resolution.
To schedule your reading Appointment today, Click Here.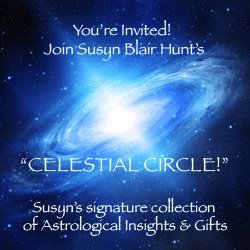 Join Susyn's Celestial Circle Today!
MEMBERSHIP INCLUDES

•  Your Birthday Forecast for the Year
• Daily Horoscopes Delivered To Your Email – Curious to know what the day holds for your spouse and/or children? Select as many signs as you like with one subscription – all delivered directly to your email or smart phone.
• Weekly Horoscopes – Want to get a jump start on your week? Subscribers can receive all their horoscopes for the week ahead in a single email – just select Weekly Horoscopes for your sign when you register.
•  Susyn Blair-Hunt's"Rituals for Empowered Living" E-book
• Weekly Astrological Forecast – A general overview of what astrological events and influences lie ahead in the heavens this week and what you can expect!
• Daily Inspirational Quotes – A new inspiring message each morning to set the tone of your day.
• Weekly Spiritual Journal – Including spiritual articles, advice columns and forecasts.
• Discounted Readings – Members get discounted readings with Susyn Blair-Hunt. PLUS a FREE recording of your session.
• Your Birthday Forecast For The Year Ahead – Discover your lucky numbers, power color, most fortunate months and spirit guide for the year, based on your birthday. Circle members have exclusive access to Susyn's yearly predictions, so you can see what's in store for yourself or loved ones who are celebrating a birthday!
For less than some Starbucks Coffees, you wake up every morning to Susyn's daily horoscopes and stellar guidance!
JOIN SUSYN'S "CELESTIAL CIRCLE" TODAY!
Give the Gift of Enlightenment!
Here's a gift that everyone will appreciate 365 days a year!
A gift subscription to Susyn Blair-Hunt's daily horoscopes is perfect for everyone.
For Personalized Gift Certificates, Contact Me
For less than some Starbucks Coffees, you wake up every morning to Susyn's daily horoscopes and stellar guidance!
SAVE WHEN YOU SUBSCRIBE FOR THE YEAR

By clicking "Subscribe" you agree to our Privacy Policy and Cookie Policy and you consent to susynblairhunt.com storing and using your personal information to contact you in the context of the contact initiated by you. The information you provide is never shared, sold or made available to anyone other than susynblairhunt.com officials and employees.
Testimonials
"I never start my day without Susyn's horoscopes! It's like an astrological weather or traffic report – I know exactly what kind of "conditions" to expect for the day ahead." – B. Walden, San Antonio, Texas
"I plan my wardrobe and wear specific jewelry based on Susyn's horoscopes, as the colors and gemstones she suggests always make me feel empowered as I move through the day." – K. Bell, Melbourne, Australia
"Susyn's horoscopes are right on the money! Literally! Recently my horoscope told me to go on a hunt around my house, as there was hidden cash in drawers, closets and pockets. By the end of my search, I had found close to $100! Amazing…" – P. Caldwell, London, UK
"I like being able to see the horoscopes for the entire week – makes it easier to plan ahead for what's to come!" A. Hardy, Tampa City, Florida