Personalized Psychic Guidance & Astrological Insights that will change your life!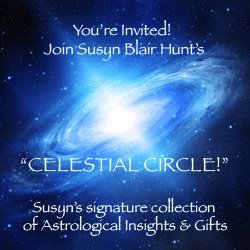 Join Susyn's Celestial Circle Today!
MEMBERSHIP INCLUDES

•  Your Birthday Forecast for the Year
• Daily Horoscopes Delivered To Your Email – Curious to know what the day holds for your spouse and/or children? Select as many signs as you like with one subscription – all delivered directly to your email or smart phone.
• Weekly Horoscopes – Want to get a jump start on your week? Subscribers can receive all their horoscopes for the week ahead in a single email – just select Weekly Horoscopes for your sign when you register.
•  Susyn Blair-Hunt's"Rituals for Empowered Living" E-book
• Weekly Astrological Forecast – A general overview of what astrological events and influences lie ahead in the heavens this week and what you can expect!
• Daily Inspirational Quotes – A new inspiring message each morning to set the tone of your day.
• Weekly Spiritual Journal – Including spiritual articles, advice columns and forecasts.
• Discounted Readings – Members get discounted readings with Susyn Blair-Hunt. PLUS a FREE recording of your session.
• Your Birthday Forecast For The Year Ahead – Discover your lucky numbers, power color, most fortunate months and spirit guide for the year, based on your birthday. Circle members have exclusive access to Susyn's yearly predictions, so you can see what's in store for yourself or loved ones who are celebrating a birthday!
For less than some Starbucks Coffees, you wake up every morning to Susyn's daily horoscopes and stellar guidance!
JOIN SUSYN'S "CELESTIAL CIRCLE" TODAY!
SAVE WHEN YOU SUBSCRIBE FOR THE YEAR

By clicking "Subscribe" you agree to our Privacy Policy and Cookie Policy and you consent to susynblairhunt.com storing and using your personal information to contact you in the context of the contact initiated by you. The information you provide is never shared, sold or made available to anyone other than susynblairhunt.com officials and employees.
Give the Gift of Enlightenment!
Here's a gift that everyone will appreciate 365 days a year!
A gift subscription to Susyn Blair-Hunt's daily horoscopes is perfect for everyone.
For Personalized Gift Certificates, Contact Me
For less than some Starbucks Coffees, you wake up every morning to Susyn's daily horoscopes and stellar guidance!
by Susyn Blair-Hunt, MsD
The Tarot Kaleidoscope
Bring the power of the Tarot to life and unlock its hidden and transformative messages with the Tarot Kaleidoscope! Whether you are just beginning your journey or a seasoned professional, this comprehensive guide to the tarot is designed to awaken your psychic abilities and add more depth to your readings.
If you are picking up a deck of tarot cards for the very first time, the initial layout in the beginner's section will have you reading the cards instantly! If you've been reading the cards for years, The Tarot Kaleidoscope will give you a new focus and understanding of how to deepen your connection with the cards and take your interpretive skills to the next level.
Internationally respected tarot expert, astrologer, and author Susyn Blair-Hunt (Rituals for Empowered Living) presents an original, step-by-step approach, offering eighteen original layouts, fifty-two sample readings, plus unique content on how to:
• Choose the ideal Significator
• Identify topic-specific card combinations
• Explore special sections on love, career, health, timing, and more
• Learn readings for dreams, past lives, channeling, and the chakras
Like the shifting glass mosaics of a Kaleidoscope, each tarot card adapts to create a visual story. Vibrating to the subject-specific layout of the cards, reflecting the surrounding cards that enhance their meanings, and aligning to the nature of your questions, all contribute to the clarity and overall outcome of every reading you do!
by Susyn Blair-Hunt, MsD
Susyn Blair-Hunt is a world-renowned Psychic, Astrologer and Metaphysical Consultant with over 30 years experience. She has created this unique collection of rituals to aid and empower everyone who is ready to bring their heart's desires into being.
The rituals are divided into three categories, each addressing an area of life vital to our soul's well being. Ceremonies include "achieving greater abundance, enlarging spiritual protection, and calling in your soul mate."
Using the powerful practices in this book can change your life and create the destiny you've always dreamed of! This unique collection of rituals will empower you to discover and harness the spiritual power you already possess. Join with Spirit in practicing these rituals and transforming your life for the better.
The knowledge in Rituals for Empowered Living holds the metaphysical key to fulfilling your desires, manifesting your dreams and creating the life YOU choose!
Susyn's rituals offer tried and tested tangible activities for improving relationships, financial well being, enhanced spirituality, and optimum health. She provides simple, yet effective and detailed instructions on what we can all do to make the necessary major "tweaks" to fill our lives with creativity and joy. She has used these rituals personally and shared them with her clients over the years, with incredible results!
Susyn's manifestation rituals will show you, by using your own personal power, how to bring your dreams to life. Choose to improve your health, increase your financial status, achieve a loving relationship or celebrate a career opportunity. Whatever your goal, these rituals are designed as the spiritual keys to reach your potential, manifest your deepest dreams and desires, and empower your connection to Spirit.
The spiritual protection rituals teach us important lessons in how to block and eliminate negative energy, conflict, or depression. There are also ceremonies to surround yourself, your home and loved ones with enhanced spiritual protection.
Susyn's love rituals allow us to make significant progress on our journeys of the heart. Each one compels us to consider our choice of partners carefully, in a way that may involve rethinking our expectations and taking a closer look to reveal our true hearts' desires. She shows us how to clarify our goals in order to call forth and manifest our true soul mates, how to create loving and lasting relationships with them, as well as how to let go of relationships that no longer serve us.
Through years of experience, Susyn acquired a vast knowledge of the obstacles we all face in life. Her hope is that, by working with Spirit while practicing the rituals in her book, you can achieve and enjoy a positive outcome that will bless, enrich, and fulfill your life!
Testimonials
"I never start my day without Susyn's horoscopes! It's like an astrological weather or traffic report – I know exactly what kind of "conditions" to expect for the day ahead." – B. Walden, San Antonio, Texas
"I plan my wardrobe and wear specific jewelry based on Susyn's horoscopes, as the colors and gemstones she suggests always make me feel empowered as I move through the day." – K. Bell, Melbourne, Australia
"Susyn's horoscopes are right on the money! Literally! Recently my horoscope told me to go on a hunt around my house, as there was hidden cash in drawers, closets and pockets. By the end of my search, I had found close to $100! Amazing…" – P. Caldwell, London, UK
"I like being able to see the horoscopes for the entire week – makes it easier to plan ahead for what's to come!" A. Hardy, Tampa City, Florida