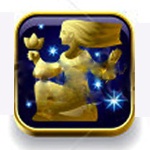 VIRGO HOROSCOPE JUNE 5, 2020

Virgo (August 23 – September 22)
Affirmation for this week of SUCCESS – "With Spirit's help I take a leap of faith into new opportunities, confident that my efforts will bear fruit. I open my heart to the possibilities, assured that I will experience success in all I do." (Themes: Spirit Guide: Raven, Color: Blue, Number: 3)

FRIDAY: You may feel like sleeping in, not because you're tired, but because you'll be feeling a bit lazy or self-indulgent under the Sagittarius full Moon/lunar eclipse. Meditate with a tiger's eye stone, as it can infuse you with the power to get up and get moving. Avoid the urge to criticize another person or you could find yourself the recipient of unwanted complaints yourself! Expect a friend from the past to reenter your life unexpectedly today, through a phone call, text, or email.

KEEP IN MIND: Some days it's just hard to get moving, so use a little gem magic to get up and running.